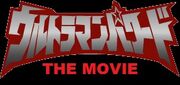 Ultraman Powered: THE MOVIE (ウルトラマンパワード:THE MOVIE, Urutoraman Pawado: Za Mubi) is an animated film based on the Ultra Series: Ultraman: The Ultimate Hero. The series was a prequel of the upcoming Animated Reboot of Ultraman Powered.
to be added
Characters
Edit
W.I.N.R. (Worldwide Investigation Network Response team)

Kenichi Kosugi: A member of WINR's first team. He encountered Ultraman Powered during a fight with Powered Bemular.
Ultraman Powered (referred as Ultraman in the English release)
Powered Bemular
Powered Neronga
Powered Zaragas
Powered Baltan
Kosugi's name is referenced to the both actor's names: Kane and Sho Kosugi.
The movie's actual title is: 劇場版ウルトラマンパワード(Gekijouban Urutoraman Pawado).