Ultraman Justice VS Ultra Warriors (ウルトラマンジャスティスVSウルトラ戦士, Urutoraman jasutisu bāsasu Urutora Senshi) is a series of OVAs, also a sequel of the Ultraman Justice TV Series. The series also featured the returning Heisei era Ultras: Ultraman Agul, Ultraman Neos, and Ultraseven 21. Each episode's runtime is 45 minutes.
to be added
Characters
Edit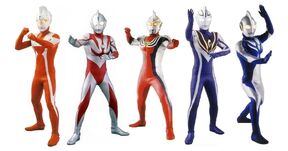 Julie/Ultraman Justice

Standard Mode
Crusher Mode
Azure Standard Mode (NEW)
Neo Crusher Mode (NEW)
Ultimate Crusher Mode (NEW)

Hiroya Fujimiya/Ultraman Agul
Genki Kagura/Ultraman Neos
Masaki Kazimori (Alternate)/Ultraseven 21
Musashi Haruno/Ultraman Cosmos

Luna Mode
Corona Mode
Eclipse Mode
Space Corona Mode
Future Mode
Supporting
Edit
Ayano Haruno
Sora Haruno
Team EYES
XIG (eXpanded Interceptive Guardians)
Reiko Yoshii
HEART (Hi-tech Earth Alert and Rescue Team)
to be added
Universal Battle! The Azure Giant (Agul arc part.1)
The Guardians of the Parallel Universe (Agul arc part. 2)
Arise! The Ultra from the Neos Universe! (Neos arc part. 1)
Menscheit's Revival! The end of the Neos Universe! (Neos arc part. 2)
other episodes will be added soon.
Producer: Tsuburaya Productions
Director: Akiyuki Shinbo, Toshihiro Iijima
Animation: AIC Plus
Writers: Tsuburaya Productions
Music composer: Kenji Kawai, Go Sakabe
Julie: Mie Sonozaki

Ultraman Justice: Osamu Ryutani (Grunts), Mie Sonozaki (Voice)

Hiroya Fujimiya: Tomokazu Sugita

Ultraman Agul: Hassei Takano (Grunts), Tomokazu Sugita (voice)

Genki Kagura: Jun Fukuyama

Ultraman Neos: Jun Takatsuki (Grunts) Jun Fukuyama (voice)

Masaki Kazamori (alternate): Akira Ishida

Ultraseven 21: Isshin Chiba (Grunts and voice, if not merged), Akira Ishida (Voice)

Musashi Haruno: Daisuke Kishio

Ultraman Cosmos: Yuki Sato (Voice), Hisanori Koyatsu (Grunts), Daisuke Kishio (Musashi's voice)

Ayano Haruno: Mai Nakahara
Keisuke Fubuki: Kenichi Suzumura
Reiko Yoshii: Yui Horie
Hayami Nana: Eri Kitamura
to be added