Darkron is a monster from Ultraman Gamma. He appeared in episode 2.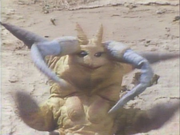 Subtitle: Dark Monster (暗黒怪獣, Ankoku Kaijū, Dark Monster)
Powers and Abilities
Edit
Illusions: When moving at high speeds, Darkron can create fake copies of himself.
Teleportation: Darkron can teleport right before he's attacked.
Dimension Travel: Darkron can travel through dimensions.
Levitation: Darkron can levitate in the air at will for an undetermined amount of time.
PENDING